Perfect Pumpkin Pancakes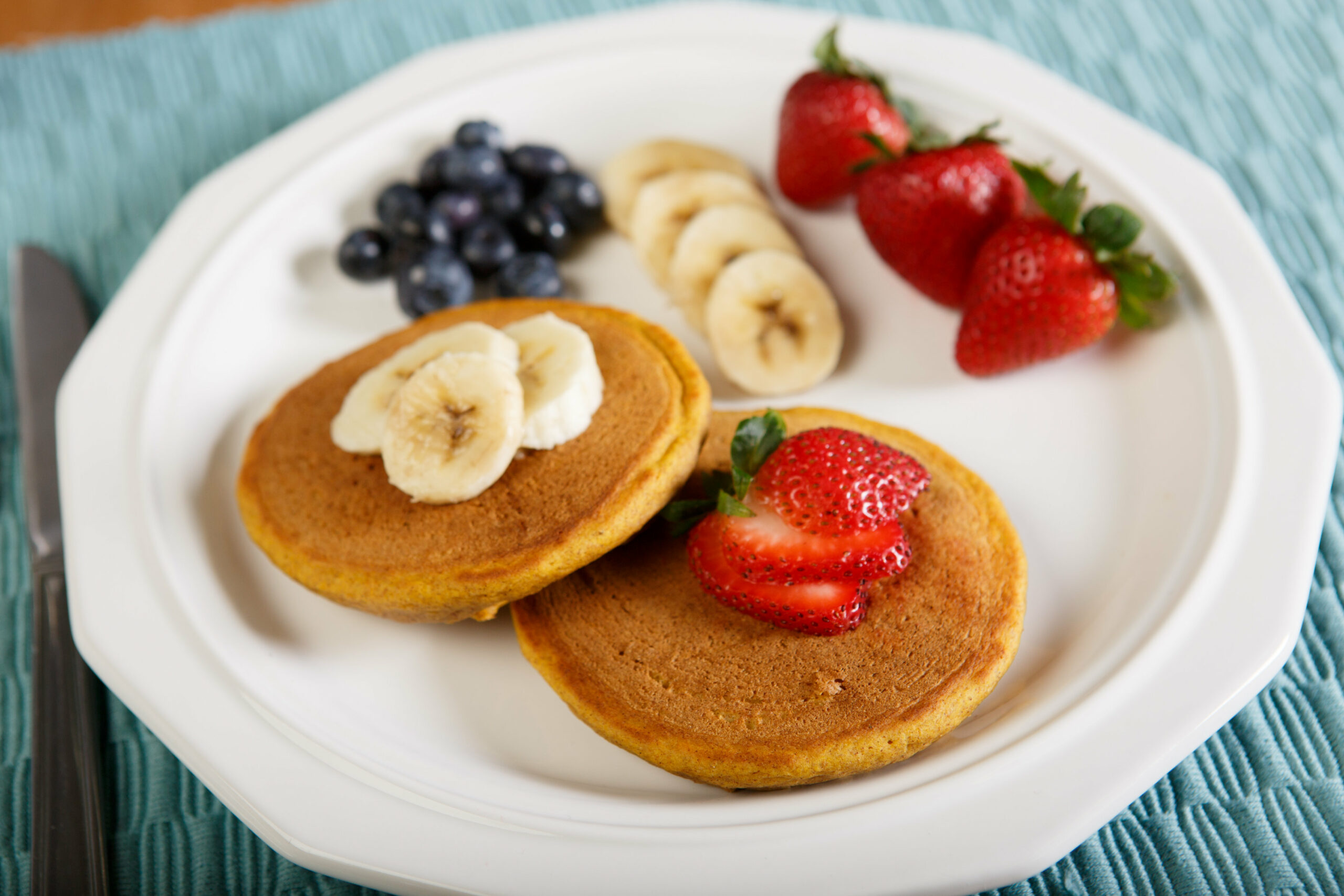 Prep time:
10 min
Cook time:
15 min
Yield:
12 Servings
Serving Size:
1 Pancake
Ingredients
1 cup whole wheat flour
1 cup all-purpose white flour
2 Tablespoons brown sugar
1 Tablespoon baking powder
1 1/4 teaspoons pumpkin pie spice
1 teaspoon salt
1 egg
1/2 cup canned pumpkin (not pumpkin pie filing)
1 3/4 cups milk, low-fat
2 Tablespoons vegetable oil
Directions
Combine whole-wheat flour, white flour, brown sugar, baking powder, pumpkin pie spice, and salt in a large mixing bowl.
In a medium bowl, combine egg, canned pumpkin, milk and oil. Stir to mix well.
Add wet ingredients to flour mixture. Stir just until moist. Batter may be lumpy. (For thinner pancakes, add more milk).
Lightly coat a griddle or skillet with cooking spray and heat on medium. Flip when bubbles appear or pancake is golden on the bottom. Repeat until all batter is used.
Notes
Top with applesauce, fresh fruit or yogurt.
For homemade applesauce: Wash, remove core, and chop 3-4 apples into 1/2 inch pieces and add to medium saucepan. Cook on low to medium heat for 10-15 minutes, stirring often, until apples have softened and break apart. Add a sprinkle of cinnamon and enjoy!
To replace pumpkin pie spice: use 1/2 teaspoon cinnamon, 1/8 teaspoon cloves, 1/4 teaspoon ginger, and 1/8 teaspoon nutmeg
Ingredients
1 cup whole wheat flour
1 cup all-purpose white flour
2 Tablespoons brown sugar
1 Tablespoon baking powder
1 1/4 teaspoons pumpkin pie spice
1 teaspoon salt
1 egg
1/2 cup canned pumpkin (not pumpkin pie filing)
1 3/4 cups milk, low-fat
2 Tablespoons vegetable oil
Directions
Heat oil in a large skillet over medium-high heat (350 degrees in an electric skillet).
Add celery and onion. Cook 4-7 minutes until soft.
Add cabbage, green pepper, salt and pepper. Cook for 5-10 minutes, stirring often so the cabbage sweats.
Add tomato and serve immediately.
Refrigerate leftovers within 2 hours.
Notes
• Top with applesauce, fresh fruit or yogurt.
• For homemade applesauce: Wash, remove core, and chop 3-4 apples into 1/2 inch pieces and add to medium saucepan. Cook on low to medium heat for 10-15 minutes, stirring often, until apples have softened and break apart. Add a sprinkle of cinnamon and enjoy!
• To replace pumpkin pie spice: use 1/2 teaspoon cinnamon, 1/8 teaspoon cloves, 1/4 teaspoon ginger, and 1/8 teaspoon nutmeg
Watch a Maine SNAP-Ed Nutrition Educator go through the steps here: