Eat Healthy: An Intro to MyPlate
Making food choices for a healthy lifestyle can be a challenge, but the USDA has created a simple graphic to help students and families make healthy choices every day.
The MyPlate graphic helps to visualize how to include the five food groups to every meal. Based off the 2015 Dietary Guidelines for Americans, the USDA has created these simple key messages to support healthy eating:
Make half your plate fruits and vegetables

Focus on whole fruits and vary your veggies

Make half your grains whole grains

Move to low-fat or fat-free milk or yogurt

Vary your protein sources

Drink and eat less sodium, saturated fat, and added sugars
MyPlate shows the proportions of each food group to put on your plate during meals.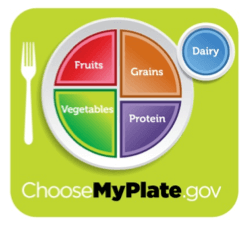 Our bodies need nutritious foods and plenty of water to stay healthy and energetic.
Making half the plate fruits and vegetables is a simple way to make sure you are getting enough of these nutrients each day.
Make this easier for your family by encouraging them to try a variety of fruits and vegetables whether it is for breakfast, snack, lunch or dinner at home or eating out.
For more information about MyPlate, fruits, and vegetables, be sure to visit: www.choosemyplate.gov.
---
Physical Activity
Being physically active is one of the most important steps that Americans of all ages can take to improve our health. Physical activity simply means moving the body – which uses energy!
We consume energy in the form of calories that are in food. The more active you are the more calories you burn.
Regular physical activity

Regular physical activity can produce long-term health benefits. Both aerobic (endurance) and muscle-strengthening (resistance) physical activity are beneficial. People of all ages can benefit from physical activity.

The more physically active you are, the greater the health benefits.
Movement throughout the day

Movement throughout the day can reduce your risk for chronic diseases such as heart disease, stroke, some cancers (breast and colon), Type 2 Diabetes, osteoporosis and depression. Physical activity strengthens your heart muscle, improves blood flow and helps your mood while helping you maintain a healthy weight.

Over time, regular movement lowers your risk for early death and enables you to engage in the activities necessary for daily living. Keep in mind that some physical activity is better than none at all!
Staying active in all seasons

Staying active in all seasons is important! Maine offers some excellent activities. These might include:

Winter: skiing, snowshoeing, ice skating, shoveling
Spring: hiking, walking, running, bicycling
Summer: walking, bicycling, swimming, gardening
Fall: hiking, walking, raking leaves
Programs that promote physical activity

There are many programs that promote physical activity, such as Maine WinterKids or the YMCA! Check out your local programs for more information.
Everyone should aim to be physically active for 60 minutes a day.
Whether you are walking, biking, tossing a ball, or playing tag, every little bit counts. Our bodies were meant to move!
For more information on physical activity visit Physical Activity Guidelines for Americans