Pasta Salad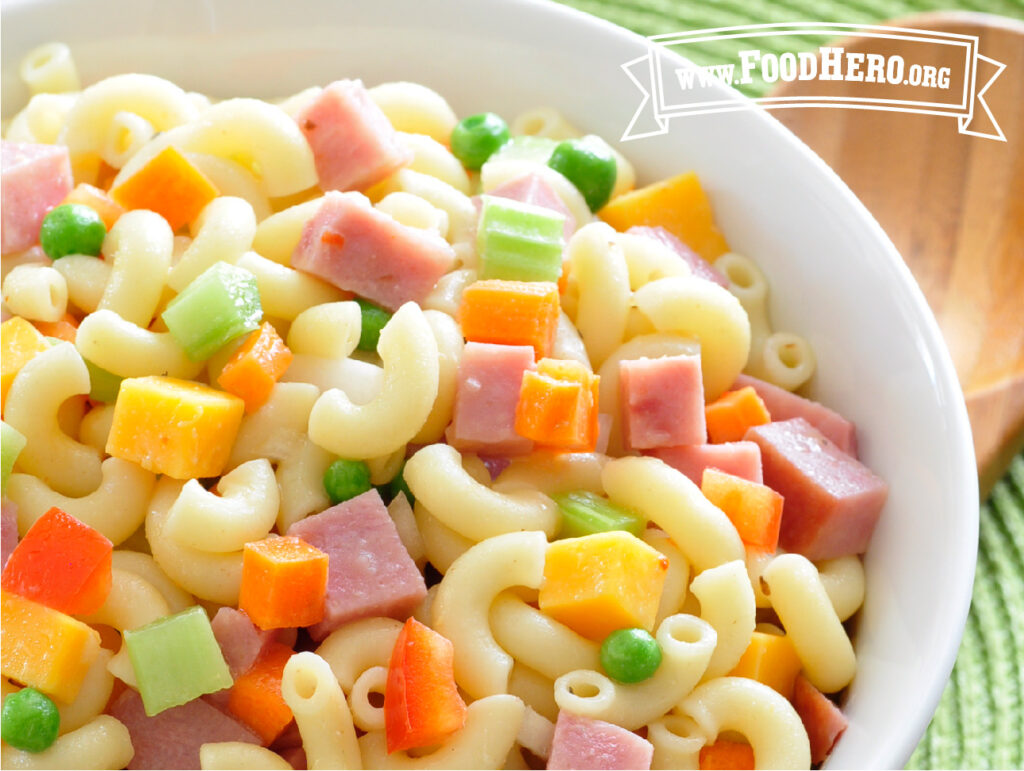 Prep time:
10 min
Cook time:
N/A
Yield:
6 Servings
Serving Size:
1 Cup
Ingredients
3 cups cooked pasta
2 tablespoons chopped sweet onion
1⁄4 cup chopped celery
1⁄4 cup chopped carrots
1⁄4 cup frozen peas, thawed
2 tablespoons chopped red or green bell pepper
1 1⁄2 cups chopped ham
1⁄2 cup cubed cheddar cheese (optional)
1⁄4 cup fat free or low fat Italian dressing
Directions
Combine all ingredients in a large bowl and mix well. Cover and refrigerate until ready to serve.
Refrigerate leftovers within 2 hours.
Ingredients
3 cups cooked pasta
2 tablespoons chopped sweet onion
1⁄4 cup chopped celery
1⁄4 cup chopped carrots
1⁄4 cup frozen peas, thawed
2 tablespoons chopped red or green bell pepper
1 1⁄2 cups chopped ham
1⁄2 cup cubed cheddar cheese (optional)
1⁄4 cup fat free or low fat Italian dressing
Directions
Heat oil in a large skillet over medium-high heat (350 degrees in an electric skillet).
Add celery and onion. Cook 4-7 minutes until soft.
Add cabbage, green pepper, salt and pepper. Cook for 5-10 minutes, stirring often so the cabbage sweats.
Add tomato and serve immediately.
Refrigerate leftovers within 2 hours.