Maine SNAP-Ed Menu of Services
For more information about offering these programs in your area, please email mainesnap-ed@une.edu or give us a call at 207-221-4560.

FOR CHILDREN: A series of 6 to 8 interactive lessons designed to get children to eat more fruits and vegetables and choose low-fat dairy; increase the time they are physically active; and reduce the amount of time they spend watching television. Lessons include nutrition, cooking, mealtime behaviors and physical activity.

A series of 8 lessons (one each month) for early elementary (Grades K-3) students that focus on eating a wide variety of fruits & vegetables for overall health. Each lesson includes nutrition education, a food tasting of a fruit or vegetable and a JAMmin' Minute physical activity. FREE classroom books support continued learning.

A series of 6 to 9 sessions designed to teach youth in Grades 4-6th about nutrition, enhanced by garden education activities. Lessons are aligned with Maine Learning Results for health. The curriculum integrates multiple disciplines including science, math, language arts, history, environmental studies and health.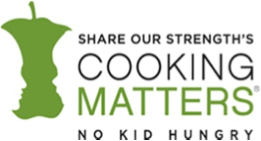 FOR TEENS. FOR ADULTS. FOR FAMILIES. A series of 6 interactive cooking instruction classes led by a chef and a trained nutrition educator. Separate series are available geared toward teens, adults, parents and families. Participants of all ages learn to prepare simple, healthy and affordable meals at home. In each class, participants cook a delicious meal and eat together then receive ingredients to make it again at home. Participants receive a recipe book upon completion of the class. Share our Strength's Cooking Matters® is a program of The Good Shepherd Food Bank.

An interactive grocery store tour, grocery store tour event or pop-up store tour, led by a trained nutrition educator. Participants receive great shopping tips, practice reading labels and compare pricing to learn how to buy healthy foods on a limited budget. Upon completion of the grocery store tour, participants receive a $10 gift card with a healthy challenge. Share our Strength's Cooking Matters® is a program of The Good Shepherd Food Bank.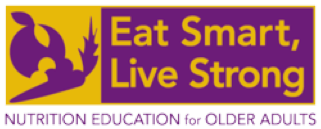 A series of 4 lessons to help older adults improve their health and well-being through nutrition and physical activity. Participants set goals, address challenges, modify favorite recipes and practice eating healthy on a budget.

"10 Tips" Nutrition Education Series for youth, teens and adults. A series of 4 sessions which may be instructed as individual, recurring sessions, following the theme of "Choose MyPlate" or "Eating Better on A Budget". Sessions engage participants with food tastings along with USDA's tip sheets and recipes.